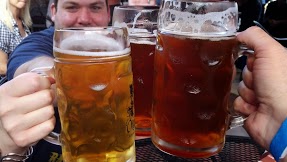 Sometimes life just wears you down.  Beer helps, but it doesn't help you get any of that time back.  Here's a quick summary of my beer-related life over the summer:
June 15-23 – Vacation to California, where we traveled to San Francisco and Los Angeles.  It was the first time I have had any Russian River beers, and I see why they score so high.  I tried the gambit of the specials, like


Pliny the Elder
Damnation
Supplication
Consecration
Redemption

July 4th weekend – brewed several beers, including two sours: a Tart of Darkness clone, and an Oud Bruin, both of which turned out great (they were put in bottles a few weeks ago)
July 11 – Had a Monk's Cafe Flemish Red at Monk's Cafe in Philadelphia.  Need I say more?
September 4 – Enjoyed Sweet Baby Jesus from DuClaw Brewing for the first time in Washington D.C. – A peanut butter porter.  It was pretty tasty.

Dan Carey hard at work
How was your summer?  Any great stories to tell?  Let me know!